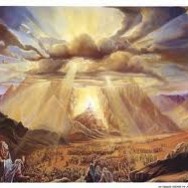 WHY THE CHRISTIAN FAITH HAS LEFT ITS ROOTS AND OLD TESTAMENT SCHOOLMASTER
Misconception =   A mistaken thought or idea. 
MISCONCEPTION ONE : God started the church at Pentecost 
When did God establish the church?
I will make this bold statement based on fact and not on my opinion. The Church did not start at Pentecost in Acts chapter two. The Church started at Mt. Sinai in the book of Exodus chapter 19. The first step to destroying misconceptions is to examine truth. Lets take a quick look.
Acts 7:38
This is he that was in the church in the wilderness with the angel that spake to him in the Mount Sinai, and with our fathers: who received living oracles to give unto us:
The writer, and later the translator of the above verse called the assembly at Mt. Sinai the same thing we call our assemblies: a church.
THE GREEK WORD FOR CHURCH HAS A HEBREW COUNTERPART IN THE OLD TESTAMENT, THEY BOTH HAVE THE SAME DEFINITION.
Joel 2:15-16
Blow the trumpet in Zion, sanctify a fast, call a solemn assembly: Gather the people, sanctify the congregation = Strongs  # 6951 / kaw-hawl = assembly or congregation this is the Hebrew counterpart to the Greek word ecclesiae = a gathering, an assembly, CHURCH
INTERESTING POINT TO PONDER
The Tabernacle in the wilderness is almost always referred to as the Tabernacle or Tent of the congregation. Below are some examples.
Exodus 28:43   And they shall be upon Aaron, and upon his sons, when they come in unto the tabernacle of the congregation
 Exodus 40:1-2  And the LORD spake unto Moses, saying, On the first day of the first month shalt thou set up the tabernacle of the tent of the congregation.
Leviticus 1:1  And the LORD called unto Moses, and spake unto him out of the tabernacle of the congregation, saying,
Let us now reprogram our thinking.
GOD'S CHURCH  began at Mt. Sinai 3500 years ago.