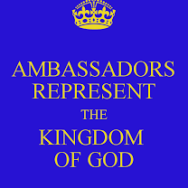 1 Corinthians 6:2-3
2  Do ye not know that the saints shall judge the world? and if the world shall be judged by you, are ye unworthy to judge the smallest matters?
3  Know ye not that we shall judge angels? how much more things that pertain to this life?
Learning to live GOD'S plan now is preparation for the world to come. There is no magic changing of ones actions at the rapture. The rapture is a changing of one's body not one's mind and methods. We must learn to operate correctly here and now in our KING's kingdom. 
Podcast: Play in new window | Download