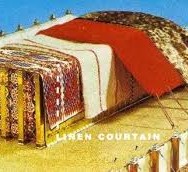 There are four coverings GOD instructs man to make to cover the Holy Place, and the Holy of Holies in his Tabernacle. These four coverings are to be: curtains of fine twined linen, curtains of goat's hair, a covering of rams skin dyed red, and an outer covering of badger skins. As we study the composition of these four diverse curtains and skin coverings a picture will develop. It is a picture of the workings of our Messiah the CHRIST. 
Exodus 26:1,7,14 :Moreover thou shalt make the tabernacle with ten curtains of fine twined linen, and blue, and purple, and scarlet: with cherubims of cunning work shalt thou make them. And thou shalt make curtains of goats' hair to be a covering upon the tabernacle: eleven curtains shalt thou make.
14  And thou shalt make a covering for the tent of rams' skins dyed red, and a covering above of badgers' skins.
Podcast: Play in new window | Download