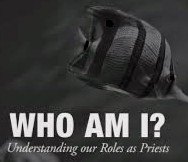 The home and family of a Priest speak of the character of one's priesthood. This lecture covers the daily routine of a priest in GOD'S temple as we look for a pattern to follow in our duties for GOD.
Genesis 18:18-19 : Seeing that Abraham shall surely become a great and mighty nation, and all the nations of the earth shall be blessed in him?  For I know him, that he will command his children and his household after him, and they shall keep the way of the LORD, to do justice and judgment; that the LORD may bring upon Abraham that which he hath spoken of him.
Exodus 19:6 : And ye shall be unto me a kingdom of priests, and an holy nation. These are the words which thou shalt speak unto the children of Israel.
Podcast: Play in new window | Download