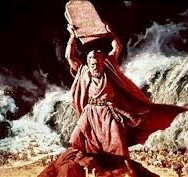 This one hour lesson is a little tough on our traditional approach to the Old Covenant. However it will bring great revelation to those who have never read the 613 commandments given to Moses. Amazing as it sounds, most people assume what they are told by religious leaders are fact. We believe that the overwhelming majority of Christian teachers present doctrines they studied and truly believe. Thank GOD for every person sharing the knowledge of GOD and HIS CHRIST which they have gleaned. With the recent developments in a 2500 page health care law, it sickened many to know it was approved without being read, much less understood until after the vote. Having never read for yourself the 613 laws( Including the Ten Commandments) GOD gave Moses during his forty day fast, lets open the scroll for evaluation. Making decisions with no knowledge is not what we as Christians do. Many times we have judged other religions due to their lack of investigating the evidence for what they believe. Sit back and enjoy as we divide the 613 GOD given laws into the following five categories.
These five categories are:
Interaction with GOD,
Dealing with self, humanity, animals, and agriculture,
Observing times and seasons,
Duties, and requirements of priests,
The temple system, its operation, and functions.
We all feel better when we know that the laws which are voted in or out have at least been read.
Matthew 5:17-18: "Think not that I am come to destroy the law, or the prophets: I am not come to destroy, but to fulfill. For verily I say unto you, Till heaven and earth pass, one jot or one tittle shall in no wise pass from the law, till all be fulfilled".
Our desire is you wrestle with the subject: "GOD's instructions (law)" until you have your own opinion. The final move of GOD's SPIRIT could possibly be restoring our biblical heritage. Thus bringing all believers of the GOD of Abraham, Isaac, and Jacob into the unity of JESUS
the MESSIAH.
John 5:46-47: For had ye believed Moses, ye would have believed me: for he wrote of me. But if ye believe not his writings, how shall ye believe my words?
Podcast: Play in new window | Download