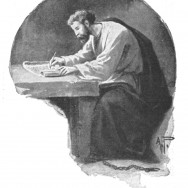 A one hour teaching covering the third chapter of the epistle to Galatians. Once again we are on the hunt for scripture that says GOD's law has been done away with. People have been instructed in chapter three of Galatians is stated we no longer need GOD'S laws.
This chapter covers what actions allowed the believers in Galatia to receive the Spirit of GOD.
What is the schoolmaster of faith, and where does this school master belong today? What are we to do with the law once faith in Messiah arrived? Our goal is to magnify the Messiah, build faith in his atoning work, and teach the Good News of Christ.  We endeavor to magnify Christ the Savior and his gift of salvation. Our hope is to open believer's minds to the complete bible, Old and New Testament. This complete bible teaching adds a fullness that cannot be found by omitting sixty percent of GOD'S word. Fully understanding the old covenant schoolmaster only enhances al l of our correct doctrines of the Christian faith.
Romans 7:14 For we know that the law is spiritual: but I am carnal, sold under sin.
Podcast: Play in new window | Download