GODS plane for his priest's on earth was for them to be a conduit of his power, his presence, and his blessings.
Each morning in the temple at the conclusion of the morning service the officiating priest was commanded to bless the people with these words:
Numbers 6:22-26 : And the LORD spake unto Moses, saying, Speak unto Aaron and unto his sons, saying, On this wise ye shall bless the children of Israel, saying unto them, The LORD bless thee, and keep thee: The LORD make his face shine upon thee, and be gracious unto thee: The LORD lift up his countenance upon thee, and give thee peace. 
In the New Testament Jesus said it like this:
Matthew 10:13 : And if the house be worthy, let your peace come upon it: but if it be not worthy, let your peace return to you.
  In this third lesson on Priesthood we investigate what holiness is. As priests we are called to holiness therefore we should define what this means. Are spirituality and holiness the same thing? These topics and others are covered in this 45 minute teaching.
Podcast: Play in new window | Download
Read More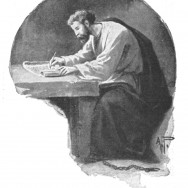 A one hour teaching covering the third chapter of the epistle to Galatians. Once again we are on the hunt for scripture that says GOD's law has been done away with. People have been instructed in chapter three of Galatians is stated we no longer need GOD'S laws.
This chapter covers what actions allowed the believers in Galatia to receive the Spirit of GOD.
What is the schoolmaster of faith, and where does this school master belong today? What are we to do with the law once faith in Messiah arrived? Our goal is to magnify the Messiah, build faith in his atoning work, and teach the Good News of Christ.  We endeavor to magnify Christ the Savior and his gift of salvation. Our hope is to open believer's minds to the complete bible, Old and New Testament. This complete bible teaching adds a fullness that cannot be found by omitting sixty percent of GOD'S word. Fully understanding the old covenant schoolmaster only enhances al l of our correct doctrines of the Christian faith.
Romans 7:14 For we know that the law is spiritual: but I am carnal, sold under sin.
Podcast: Play in new window | Download
Read More