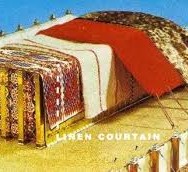 There are four coverings GOD instructs man to make to cover the Holy Place, and the Holy of Holies in his Tabernacle. These four coverings are to be: curtains of fine twined linen, curtains of goat's hair, a covering of rams skin dyed red, and an outer covering of badger skins. As we study the composition of these four diverse curtains and skin coverings a picture will develop. It is a picture of the workings of our Messiah the CHRIST. 
Exodus 26:1,7,14 :Moreover thou shalt make the tabernacle with ten curtains of fine twined linen, and blue, and purple, and scarlet: with cherubims of cunning work shalt thou make them. And thou shalt make curtains of goats' hair to be a covering upon the tabernacle: eleven curtains shalt thou make.
14  And thou shalt make a covering for the tent of rams' skins dyed red, and a covering above of badgers' skins.
Podcast: Play in new window | Download
Read More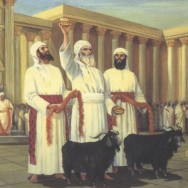 This is our forth lesson explaining the duties and rituals performed in the temple on the Day of Atonement. Each lesson is like a piece to a puzzle. The more pieces we put together the clearer our picture becomes. When we have completed each lesson of the Day of Atonement a clear picture of the atoning work of our Messiah appears. In this one hour lecture we will venture behind the veil into the Holy of  Holies for our first of three entries on this special day. Some other things that will be explained: Why the priest made whip like motions in applying the blood, what places this blood was applied, how do we see Jesus in these temple services, how did the high priest see in the darkness behind the veil. These are a few of the topics discussed in this lesson. As always it is a portion that needs to be understood before we move to the next lesson. As the high priest would lay hands on the bullock and confess his sin and Israel's sin, the animal now became the guilty victim. GOD'S plan of a substitute for mans guilt is the reality of the Day of Atonement.
Podcast: Play in new window | Download
Read More