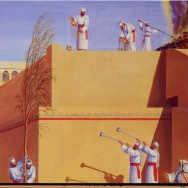 Continuing our third lesson on the rituals in the temple on the Day of Atonement (Yom Kippur). We will find out which of the four daily lots used to pick priests for duty promises special blessings. As we examine the twenty four courses of service for the priests a New Testament mystery will begin to be unlocked. This mystery has to do with identifying the month Jesus was born. As we ascend the outer altar with the high priest we will understand why there are three fires burning atop it. Other topics covered in this one hour audio are: What are the daily sacrifices GOD required, The hour these sacrifices were to be offered, What hour was our Lamb Jesus Crucified and the hour of his death, What must the high priest take into the Holy of Holies before he entered with the blood, and much more. Sit back, take notes, and enjoy feasting on the foundations of our faith. As always our goal in every lesson is to build our faith in GOD's plan of redemption through the atoning work of Christ. Faith in this completed work of the Messiah is the capstone of Christian faith.
Podcast: Play in new window | Download
Read More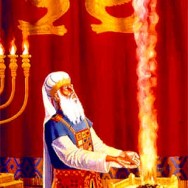 DAY OF ATONEMENT CONTINUED FROM LESSON 32
Fifty minutes of explanation on the high priests preparatory rituals to enter the holiest place on earth. Subject matter covered in this lesson: Garments of high priest that must be worn, why were his golden garments traded for his white garments on this day,  the garment gambled for at CHRIST's crucifixion, First of five immersions that were commanded to be observed on this day, why the high priests first immersion of the five takes place over the water gate to the temple court yard, why the night watchman had his priestly garment set on fire by another priest, a scriptural reference to this incident be Christ himself, and much more. Other mentions of interest are the resurrection of the dead beginning at the City of Hebron in the cave of Machpelah (Gen. 50:13.). How the opening of the gates of the temple could be heard in Jericho 22 miles from Jerusalem. Get your note pad out, identify the pause button on the audio lesson, write your questions and send us an email. Grow in GOD through knowledge of his WORD
Romans 10:17 : So then faith cometh by hearing, and hearing by the word of God.
Podcast: Play in new window | Download
Read More