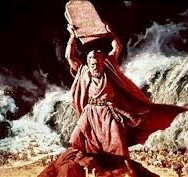 This one hour lesson is a little tough on our traditional approach to the Old Covenant. However it will bring great revelation to those who have never read the 613 commandments given to Moses. Amazing as it sounds, most people assume what they are told by religious leaders are fact. We believe that the overwhelming majority of Christian teachers present doctrines they studied and truly believe. Thank GOD for every person sharing the knowledge of GOD and HIS CHRIST which they have gleaned. With the recent developments in a 2500 page health care law, it sickened many to know it was approved without being read, much less understood until after the vote. Having never read for yourself the 613 laws( Including the Ten Commandments) GOD gave Moses during his forty day fast, lets open the scroll for evaluation. Making decisions with no knowledge is not what we as Christians do. Many times we have judged other religions due to their lack of investigating the evidence for what they believe. Sit back and enjoy as we divide the 613 GOD given laws into the following five categories.
Podcast: Play in new window | Download
Read More
A 50 minute teaching on the five oracles given by GOD to man. These five oracles in the order they were given are: The 613 laws, the tabernacle (later the temple) and its functions, the priesthood, the five sacrifices, and the Feasts of the LORD. These topics could seem to be irrelevant to a modern day Christian. The Five Foundations will give us a deeper understanding of the foundations GOD laid before giving us the chief corner stone. These foundations may help illuminate your walk in the footsteps of Messiah. Ephesians 2:20 "And are built upon the foundation of the apostles and prophets, Jesus Christ himself being the chief corner stone";
With understanding these five prior foundations laid the words and life of our LORD and SAVIOR will be greatly enhanced. Please understand that our teaching perspective is always to magnify CHRIST and clarify his teachings. As these lessons will expound on the covenants, laws, sacrifices, as well as many other Old Testament subjects we are firmly aware that we are only justified by faith. Our goal is to help believers build stronger biblical faith rightly dividing the word of truth.
1 Corinthians 3:11:"For other foundation can no man lay than that is laid, which is Jesus Christ.
The volume of the book is written of HIM. He is the WORD, whether it is read from the Torah, or the New Testament, HIS WORD is the foundation of our faith and hope".
Podcast: Play in new window | Download
Read More