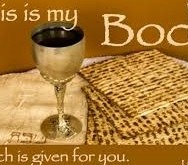 A history of the foundation of Christian salvation. You need knowledge of this faith building information.
The Israelites were instructed to mark the doorposts of their homes with the blood of a slaughtered spring lamb and, upon seeing this, the spirit of the Lord knew to pass over the first-born in these homes, hence the name of the holiday. There is some debate over where the term is actually derived from. When the Pharaoh freed the Israelites, it is said that they left in such a hurry that they could not wait for bread dough to rise (leaven). In commemoration, for the duration of Passover no leavened bread is eaten, for which reason it is called "The Festival of the Unleavened Bread". Thus Matzo (flat unleavened bread) is eaten during Passover and it is a symbol of the holiday.
Historically, together with Shavuot ("Pentecost") and Sukkot ("Tabernacles"), Passover is one of the three pilgrimage festivals (Shalosh Regalim) during which the entire population of the kingdom of Judah made a pilgrimage to the Temple in Jerusalem. 

Podcast: Play in new window | Download