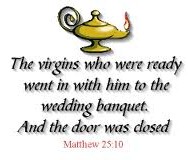 All ten are virgins, and all ten virgins slept and slumbered, however only five had kept oil in their lamps. It was the oil that allowed five of the virgins to enter into the wedding supper.
Join us as we learn where this parable fits into end time eschatology. We answer the question: Who are these virgins, what is the oil, what is the timing of the event.
Matthew 25:1-2
1  Then shall the kingdom of heaven be likened unto ten virgins, which took their lamps, and went forth to meet the bridegroom.
2  And five of them were wise, and five were foolish.
Podcast: Play in new window | Download