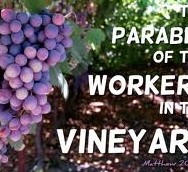 Pastor Michael Joe Kearse expounds on the parable of the "Workers in the Vineyard".
An eye opening experience is the best description of this lesson which reveals GOD'S goodness and the deceitfulness of the human heart. Why are some jealous of blessings others receive while others rejoice to see the graciousness of Christ bestowed on all? Could this parable teaching of Jesus convey more than just the grace GOD desires for all humanity? Could this parable illuminate the hidden man of our heart?
 Jeremiah 17:9
The heart is deceitful above all things, and desperately wicked: who can know it?
Podcast: Play in new window | Download