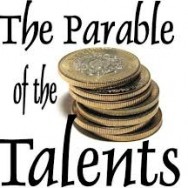 This parable points to the question: what will one do with what one has been given?
The "Parable of One, Two, and Five Talents" is a story of what Christ expects from one given a talent by the Master. Our work is very important to the one who gave us life. We all do not have the same number of talents at our disposal.
As with most things in the Kingdom of GOD, it is not the large number which is deemed ultimately important as much as the character of that which is accomplished. In seventeen verses Jesus covers the subjects of: 
"The Time of His Return, the Reckoning of Each Servants Account, and the Fatal Flaw of Fear" holding one back from investing their talent. 
Romans 4:4  "Now to him that worketh is the reward not reckoned of grace, but of debt".
Podcast: Play in new window | Download