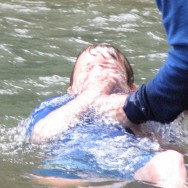 BAPTISM or BAPTISM'S From Paul's statement in Hebrews we find there are many "Baptisms" Enjoy this deep subject with us as you immerse yourself for the next 36 minutes into the clarification of doctrines concerning baptism.  This subject is continued in lesson three at a deeper level.
Hebrews 6:1-2 Therefore leaving the principles of the doctrine of Christ, let us go on unto perfection; 2 Of the doctrine of baptisms, From Christ's example and instructions on the subject of immersion (Baptism), any confusion of today's doctrines on Christian immersion can be clarified.
Mark 16:16  He that believeth and is baptized shall be saved; but he that believeth not shall be damned.
Podcast: Play in new window | Download