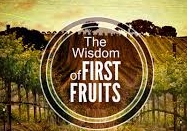 First fruits is the third of the seven Feasts of the Lord. It was on this feast that Jesus was resurrected.
1 Corinthians 15:20 But now is Christ risen from the dead, and become the firstfruits of them that slept. But every man in his own order: Christ the firstfruits; afterward they that are Christ's at his coming.
You will learn of the three harvest feasts in Israel and how they are a picture of the three harvest of souls in the earth.  First Fruits were a type of terumah that was akin to, but distinct from, terumah gedolah. While terumah gedolah was an agricultural tithe.
Podcast: Play in new window | Download